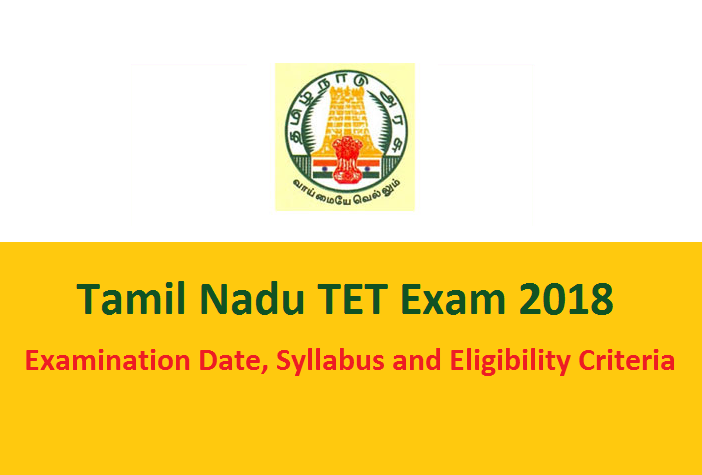 Many students are browsing about TNTET 2018 Examination Date, Syllabus and Eligibility Criteria in the web but due to lack of proper information on the internet, they are not getting such information. Here you find the complete information by The Wisdom Academy, one of the Best TET Coaching in Chennai.
The news came from the source that TNTET Examination is scheduled on 6th October 2018 for Paper-I (D.T.Ed) and 7th October 2018 for Paper-II (B.Ed). Tamil Nadu Teachers Eligibility Test (TNTET) 2018 'Application Form'is expected to be released soon. Well, all information will be declared in the notification by Tamil Nadu 'Teachers Recruitment Board' (TRB) and you can log on for details to www.trb.tn.nic.in.
TNTET 2018 – Application Fee
For General and OBC candidates – Application Fee Rs.500
For ST/SC and other Candidates – Application Fees Rs.250
Mode of Payment
Online mode like- Net Banking, Debit Card, Credit Card, Challan etc.
TNTET 2018- Examination Eligibility
Will apply for class (I to V) –
Ed. / Nursery Teacher Training with 2 years BTC in Urdu and BTC.
12th class diploma in teacher education/ Elementary. Education/B.Sc/B.A/B/Litt in Mathematics, Physics, Botany, Chemistry, English, Geography, History or any similar degree from any recognized.
Will apply for class (V to VIII) –
Graduation with minimum 45% marks.
2-year diploma in Education or B.Ed. with 50% Marks.
Candidates who are appearing for E.Ed / B.Ed. degree are also eligible to apply.
Age Limit
Minimum Age -18 Years
Maximum Age Limit -40 Years
* Age relaxation- will be applicable as per government guideline.  
TNTET 2018 – Syllabus
No
Subject Name
Syllabus
1.
Child-Development and Pedagogy
(a) Study of Children's Profile (Physical, Cognitive).

(c) Physical and Intellectual Development.

(b) Child's Social and Emotional Profile.

(f) Moral Development in Child.

(e) Social and Emotional Development for 6 to 10 years of Age Group.

(g) Learning, Types & Levels of Learning.

(f) Concepts & Constructs Factors Contributing to Learning, Learning and Knowledge.

2.
Language-I (Tamil)
Tamil (Compulsory Language I) – basics of this language is asked just to test the knowledge of basics of this language.

3.
Language-II  (English)
Syllabus (VI, VII & VIII Classes)

(a) Spotting Errors

(b) Passage Completion

(c) Idioms and Phrases

(d) Fill in the blanks

(e) Sentence Arrangement

(f) Spelling Test

(g) Antonyms

(h) Joining Sentences

(i) Error Correction (Phrase in Bold)

(j) General English

(k) Synonyms

(l) Transformation

(m) Para Completion

(n) Prepositions Sentence

4.
Environmental-Studies
(a) Animals & Plants.

(b) Birds

(c) Day & Night

(d) Small Creatures around the Children

(e) Air and Water

(f) Body-Food & Man,

(g) Matter & Materials,

(h) Keeping Healthy and Clean,

(i) Science in Everyday

(j) Work

(k)Travelogue

(l) Soil

5.
Mathematics
Numbers, Shapes & Figures, Measurements, Data Study, Patterns, Fractional Numbers
*Source of the information – wifistudy.com
TNTET 2018- Marks
TNTET 2018- PRELIMS EXAMINATION
SL.

No

Subject Name
Number of Questions
Marks
Exam Duration
1
Child-Development and Pedagogy
30
30
90 Minutes
2
Language- I
30
30
3
Language-II
30
30
4
Environmental-Studies
30
30
5
Mathematics
30
30
Total
150
150
TNTET 2018 -MAINS EXAMINATION
SL.

No

Subject Name
Number of Questions
Marks
Exam Pattern
1
Child Development and Pedagogy
30
30
90 Minutes
2
Language-I
3
Language-II
4
For Mathematics / Science Teacher
60
60
5
For Social-Science Teacher
60
60
Total
150
150
TNTET 2018 Exam- How to Apply?
Step-1: Simply visit to the website 'www.trb.tn.nic.in'
Step-2: Go the 'Recruitment' Link
Step-3: Click on TNTET 2018 exam
Step-4: Now apply online through the link
Step-5: Fill out the information along with 'Photo' and 'Signature'
Step-6: Make the payment of application fee through any online mode
Step-7: Attached documents as required
Step-8: Now click on submit button
Step-9: After submitting the application you will get a Registration number and Password, just save for future reference.